Organizing a Military Christmas Party
After November drill, Hubby came home and informed me that December's drill would be their family Christmas party. They had no choice but to have the event catered at $8 per person. Ummm, no. That is just crazy to charge that when I doubt small children would eat enough to make that price reasonable. I told him I would make everything. How hard could it be to make enough food for 60 people, then transport the meal and serve at an unfamiliar location? It dawned on me that there a number of stores in our area that could donate food or money. The more I received in donations, the less the soldiers would need to pay!
Everything worked perfectly… in my head. I ran into a big problem. As an individual, I don't have a tax exemption number. All of the big stores that could easily donate a substantial amount (Walmart, Target, Meijer) required a tax exemption number.
I began to worry. Nothing was working as I had planned. I wouldn't be as impressive as I imagined I would be.
Then, I prayed. I realized that if God wanted this to all work out, He would make it happen. Wouldn't you know it. After I gave it over to Him, I received two $25 donations to local grocery stores. That wouldn't get me too far, but hey, it would be better than nothing.
Yet as the date of the party came closer, I looked again at the list of needed items and began to worry. After more prayer, I began making more phone calls. Mert's Specialty Meat quickly offered to donate all of the pork roast. Horrocks offered 10% off my purchase. Chase Bank donated all the paper products. Outback Steakhouse gave me the buns and BBQ sauce. Operation Homefront donated enough toys for all of the children. And when I called Applebee's about donating mac and cheese for the kiddos, the manager gave me $20 to purchase the mixes.
That was it! I had enough in gift cards and cash to purchase mac and cheese, pop, chips, vegetables, dressing, and water. I cooked the pork overnight in three crock pots and a Nesco. But when I woke up the morning before the party, I did not like what I smelled. The Nesco did not turn off when I turned the knob to "off" but rather turned up. Some of the meat was burnt.
I worried.
The Lord was gracious and allowed me to think on truth. He had provided everything we needed so far. He could continue to provide if that is His plan. Five minutes later, our neighbor dropped off a crock pot to use for the event. They had included a card with $20. Once again, God provided and now I was able to purchase apples at Horrocks (using my discount) to have an extra side which would allow the rest of the dishes to go just a little bit further.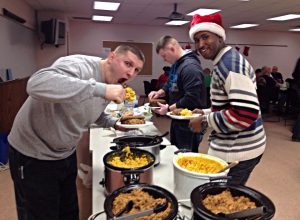 Everything was going smoothly the morning of the party. Surprise of all surprises, I hadn't forgotten anything (that I know of 🙂 ).
Then the families began to arrive. As more and more people came into the room, you guessed it, I worried. (When will I ever learn???) I asked God to do whatever He had to do in order for everyone to have enough to eat.
In the end, we had LEFTOVERS! I sent soldiers home with meat, bread, mac and cheese, chips, and pop. God had supplied in abundance.
Here is the list of donors:
Chase Bank (4530 W Saginaw Hwy) – paper products
Horrocks (7420 W Saginaw Hwy) – 10% discount
Kroger (6242 W Saginaw Hwy) – $25 gift card
Mert's Specialty Meats (1870 W Grand River Ave) – 40 lbs pork roast
Operation Homefront (4180 Keller Rd) – toys for the children
Our neighbors – $20
Outback Steakhouse (707 Brookside Dr) – bread and BBQ sauce
Theresa M – $20 for mac and cheese
Valuland (3800 W Saginaw St) – $25 gift card
If you have any questions about organizing your own volunteer-run appreciation event, feel free to ask me. I might be able to help.
Hi. I'm Tina.
Ever feel like your life isn't nearly as 'put together' as your Facebook friends? You don't have that perfectly clean living room or the time to make that amazing chocolate truffle cake? Let's pull back the curtain and talk about real life. Read more...