I have been hoping to share this recipe with you for over a week! But I have two words: TWO BOYS! My life is always Go Go Go with these two gifts God has given me. I think little boys run on solar energy because all of this time in the sun is putting them into hyperdrive or something. I am beginning to believe that our mothers are conspiring against us when they say that fresh air tires children out. FALSE.
Baking is my happy place. When I'm trying a new recipe or even stuck in a rut making an old reliable one, I am calm… usually. Well, last week, I was in my happy place. I was making four different kinds of cupcakes and two different buttercreams. Ahhhh. Bliss. One of the cupcakes I made was a lemon cupcake with lemon buttercream. But goodness, you could top them with a cream cheese or a lemon cream cheese buttercream as well. They are so fresh and springy!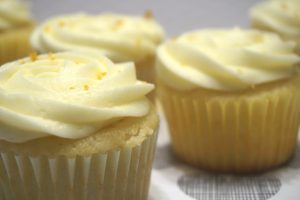 Lemon Cupcakes – makes 30 cupcakes
Ingredients
5 egg whites, (someday I'll post a favorite way to use those yolks)
3/4 cup buttermilk (or a splash of lemon juice and the rest milk, let sit for 5 minutes)
2 lemons, zested
3/4 cup unsalted butter, softened
1 3/4 cup sugar
2 1/2 cup cake flour (1/4 cup + 1 T corn starch mixed with 2 cups + 3 T flour)
1 T baking powder
1/2 t salt
Preheat the oven to 350*. In a small bowl, mix the egg whites, 1/4 cup of the buttermilk (or all of it because I can't read) and lemon zest. Set aside. In a mixing bowl, beat the butter and sugar until light and creamy. Add in the dry ingredients and mix until combined. Slowly add in the egg white mixture. Beat in remaining buttermilk (unless you oopsied like I did). Fill your cupcake pans with liners and fill each liner about half full. Bake for 15 minutes. Allow the pan to cool for about 5 minutes before transferring the cupcakes to a cooling rack.
Lemon Buttercream
Ingredients
1 cup unsalted butter, softened
4 cups powdered sugar
1 lemon, zested and juiced
2 T heavy cream
Beat the butter for 5 minutes until pale and fluffy. Add the powdered sugar, lemon zest, lemon juice (about 2 T) and cream. Beat for 3-5 minutes until light and fluffy.
*I used closer to 1/4 cup of heavy cream to get the consistency I like.
**These cupcakes were frosted as a rose by using a large star tip then topped with a sprinkle of lemon zest.
Hi. I'm Tina.
Ever feel like your life isn't nearly as 'put together' as your Facebook friends? You don't have that perfectly clean living room or the time to make that amazing chocolate truffle cake? Let's pull back the curtain and talk about real life. Read more...