Learning to dance in the rain
A couple days ago it was raining. Rained the entire day. As boys and I were running errands, Justin declared from the backseat, "I don't like the rain. Mommy, make it stop please." I used this as an opportunity to teach this little heart about God.
I told him that God is the only one who can stop the rain. He is making it rain because he has a purpose. He is watering the ground so the grass and trees can drink.
Later that day when Josh mentioned the rain outside, Justin told his daddy that God wants it to rain so the trees can drink.
Just ONE day later… While washing the dishes, I gazed outside only to see more snow (welcome to March in the midwest). My first thought? Urg, I am so sick of snow. Why would we need MORE of it? Hold on one second. Suddenly I remembered my super mom moment when I taught my son how to be grateful that God has a purpose for everything he does. Ouch.
God brings rain sometimes. God brings snow. But he knows what he's doing. I don't. Can I trust him? 🙂
Go. Dance in the rain! Appreciate the one who cares for you.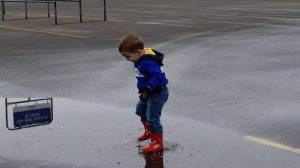 Hi. I'm Tina.
Ever feel like your life isn't nearly as 'put together' as your Facebook friends? You don't have that perfectly clean living room or the time to make that amazing chocolate truffle cake? Let's pull back the curtain and talk about real life. Read more...