The person who invented pizza deserves a big high five. Pizza is delicious, and the options are endless! Taco pizza is one of my favorites, but today we will be making the classic pepperoni pizza.
Pizza Dough
Ingredients
2 1/2 tsp yeast
1 tsp sugar
1 1/2 cups of warm water
3 1/2 cups of flour
Pizza sauce
Cheese
Toppings
Combine the yeast, sugar, and water in a large bowl or standing mixer to activate for about 10 minutes. Add the flour. Use the dough hook attachment to knead the dough for several minutes (5-8) until the dough comes together in a ball. Add more flour if the dough is too sticky. Transfer the dough to a large bowl, coated in oil, and roll the ball around to coat in oil. Cover the bowl with a damp cloth and place in a warm spot for an hour to rise.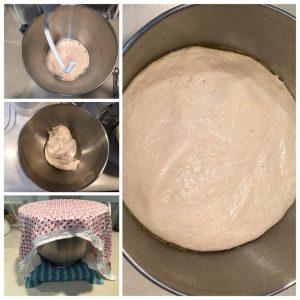 At this point I took off a small chunk of dough for a dessert pizza. I rolled the large portion out on our baking stone and the small portion out on a cookie sheet. Stick the rolled out pizza crust in the 415* oven for 7 minutes. Remove and top as you please.
For the dessert pizza I spread melted butter on the entire surface, sprinkled some cinnamon sugar, and baked for about 10 more minutes. When the baking was complete, I drizzled a glazed of a 1/4 cup of powdered sugar and 2 tsp of milk.
The large pizza had sauce, cheese, pepperoni, and olives (only on the pieces for Justin and me). I spread butter on the edges of the crust and lightly sprinkled garlic powder on the butter. I baked this one for an additional 15 minutes.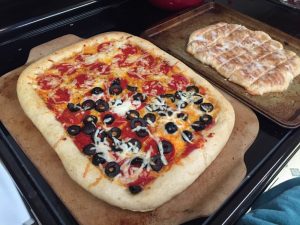 Hi. I'm Tina.
Ever feel like your life isn't nearly as 'put together' as your Facebook friends? You don't have that perfectly clean living room or the time to make that amazing chocolate truffle cake? Let's pull back the curtain and talk about real life. Read more...