Doc McStuffins Birthday Cake
About a month ago, one of Josh's friends contacted me about making a Doc McStuffins cake for her daughter's 1st birthday. I didn't know who the Doc was, but why not.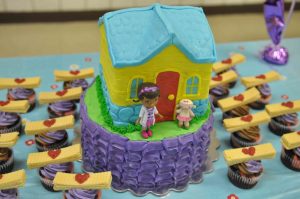 I enjoy doing research for new cake or cupcake projects. In this case I scooted over to YouTube. Let me tell you. That is a cute kid show. From what I watched, everyone acted in kindness. That is refreshing to see in children's shows.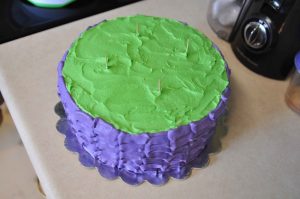 She wanted marble cake with vanilla or chocolate buttercream (so I did some of each). The top tier is marble with vanilla buttercream filling, frosted with vanilla buttercream, then covered with delicious marshmallow fondant. The bottom tier is marble with chocolate buttercream filling, frosted with vanilla buttercream. The cupcakes are marble with both vanilla and chocolate buttercream swirled together. Yum!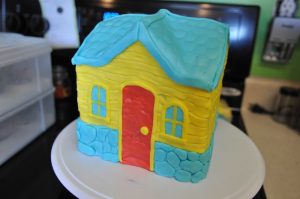 Doc McStuffins helps her toys and stuffed animals from her "office" in her playhouse so we needed to incorporate that. And for a little girl's cake, you need a lot of pretty colors. This means plain vanilla/white cake is not acceptable. We must dye it pink. Oh and ruffles! You need ruffles. Then the bandaids with hearts on them finish off the cuteness.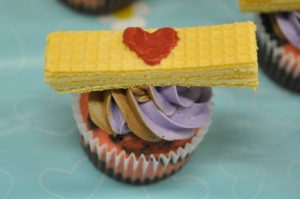 Because the party was over an hour away, we weren't able to stay the entire time and eat cake. (Those lil boys of mine need sleep.) But I heard back from a very happy mommy. Everyone loved the cake! That's a win for Tina's Cupcakery.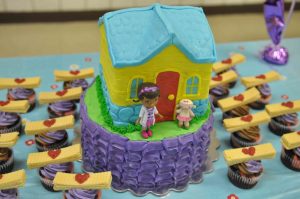 Hi. I'm Tina.
Ever feel like your life isn't nearly as 'put together' as your Facebook friends? You don't have that perfectly clean living room or the time to make that amazing chocolate truffle cake? Let's pull back the curtain and talk about real life. Read more...