Dairy, Egg, and Gluten-free Cupcakes
I. Love. Babies.
Sometimes I think I could "collect them all" and would be happy with multiples. Then our toddler does something typical of toddlers, and I come back to reality. But babies are great – especially when they belong to someone else 🙂
One of my dearest friends is expecting a little guy in about a month. It's time for a baby shower! Now of course I volunteered to make the cake and cupcakes. But this time is going to be a bit more complicated and has sent me all over the web looking for help dealing with food allergies. No one in our family is allergic to foods, so I'm kinda clueless. The mommy-to-be is gluten-free and her daughter is allergic to eggs, dairy, and nuts. What kind of cake doesn't have flour, eggs, and dairy?!?!?
I found "Crazy Cake." That worked for getting rid of the eggs and dairy, but not the flour. Then King Arthur Flour has a recipe for gluten-free cake using their Gluten Free All-Purpose Baking Mix.
I was so curious to try the baking mix in the crazy cake, but hate wasting. This stuff is too expensive just to throw away. So I made a half recipe. They turned out perfectly!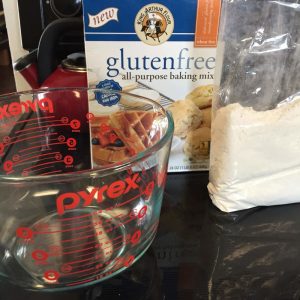 Here is the Crazy Cake full recipe from Sweet Little Bluebird with the baking mix in place of the flour.
Ingredients
1 1/2 cups Gluten-Free All-Purpose Baking Mix (I used King Arthur Flour's)
3 Tbsp. cocoa (unsweetened)
1 cup sugar
1 tsp. baking soda
1/2 tsp.  salt
1 tsp. white vinegar
1 tsp.  pure vanilla extract
5 Tbsp. vegetable oil
1 Cup water
Preheat oven to 350 degrees F.
Mix first 5 dry ingredients in a bowl.  Make 3 depressions in dry ingredients – two small, one larger. Pour vinegar in one depression, vanilla in the other and the vegetable oil in third larger depression.  Pour water over all.  Mix well until smooth.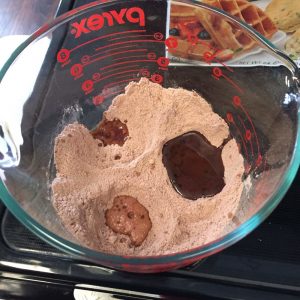 Scoop the batter into a cupcake pan filled with liners. Fill each liner about 2/3 full. (You will probably get about 13 or 14 cupcakes.) Bake on middle rack of oven for 16-18 minutes.  Check with toothpick to make sure it comes out clean. (Mine were a bit sunken in the middle, but I'll be cutting that out and filling them anyway.) Cool.
Top with your favorite frosting.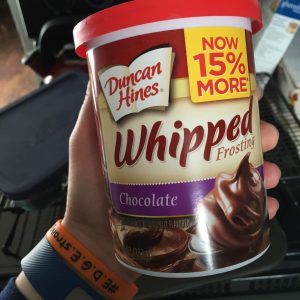 I used this Duncan Hines frosting. It is dairy and gluten-free. Now everyone can have a cupcake! And here is how it all turned out. So much fun.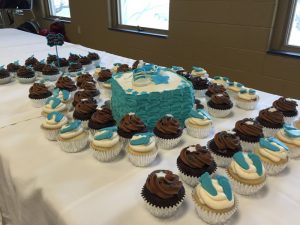 Hi. I'm Tina.
Ever feel like your life isn't nearly as 'put together' as your Facebook friends? You don't have that perfectly clean living room or the time to make that amazing chocolate truffle cake? Let's pull back the curtain and talk about real life. Read more...