I have a little problem. I tend to make new recipes when we have company. I know I should stick to something I have made before, but where's the fun in that. Back when I was planning the Christmas party for my husband's National Guard unit, I made pulled pork for the first time (I guess I like taking risks). I had no clue of what to do. But it was so simple! All you need:
Pork roast (I read that the shoulder roast is best)
Chicken or beef broth (I used chicken)
Onion (optional)
BBQ sauce (for making sandwiches)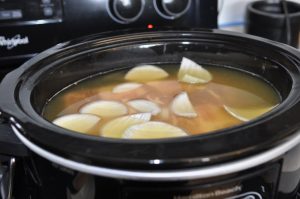 Go ahead and plop your pork roast into the crock pot. Mine was still frozen. Pour the broth in until it just covers the meat. I had an onion on the counter and thought I would throw a handful of chunks in for fun. I left them pretty big so they would be easy to separate out of the meat. But it would probably taste great mixed in, too.
I turned the crock pot on high for about 4 hours. Once the meat begins to fall apart, it's ready to be shredded.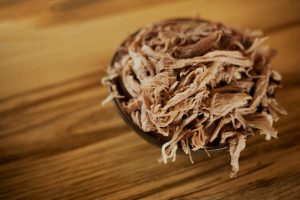 I removed the meat from the liquid and used two forks to shred it up into bite-size pieces for sandwiches. I reserved some of the liquid and skimmed off the fat to pour over the shredded pork to keep it moist. You can also use BBQ sauce for this. I prefer a pulled pork sandwich without BBQ sauce. I'm weird. Josh adds sauce to his sandwich. (Try making these rolls! So Yummy!) Seriously, that was so easy. I wish I would just remember to use one of the disposable crock pot liners I have sitting in the cabinet…
Hi. I'm Tina.
Ever feel like your life isn't nearly as 'put together' as your Facebook friends? You don't have that perfectly clean living room or the time to make that amazing chocolate truffle cake? Let's pull back the curtain and talk about real life. Read more...