I love cooking. Spending time in the kitchen can be so relaxing for me. Of course it isn't usually like that with two small boys running and crawling under my feet. But they are the ones for whom I am cooking. The best combination is preparing dinner in my happy place and having the boys eager to stuff their faces. This is one of the meals I make that Justin cannot seem to get enough! Creamy Garlic Pasta
Ingredients
2 tsp olive oil
4 cloves garlic, minced
2 tbsp butter
1/4 tsp salt
1/2 tsp pepper
3 cups chicken stock
1/2 lb spaghetti or angel hair pasta
1 cup grated mozzarella cheese
3/4 cup heavy cream
Parsley (optional garnish)
Heat the olive oil in a medium saucepan over medium/high heat. Saute the garlic until tender. Add butter, salt, pepper, chicken stock, pasta, and heavy cream and bring to a gentle boil.
Cook uncovered until the pasta is done, stirring occasionally (there won't be much excess liquid remaining). Remove from heat and stir in the mozzarella cheese.
Allow the pasta to sit for a few minutes to allow the cheese to melt and combine with the cream sauce. Stir again and enjoy! Sprinkle some freshly chopped or dried parsley on if you have it.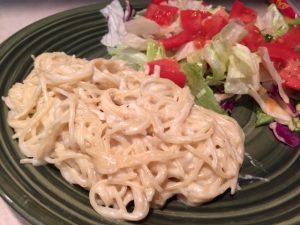 This dish pleases everyone in our family. I hope you love it as well.
Hi. I'm Tina.
Ever feel like your life isn't nearly as 'put together' as your Facebook friends? You don't have that perfectly clean living room or the time to make that amazing chocolate truffle cake? Let's pull back the curtain and talk about real life. Read more...