I am typing this up as quickly as I can. These are SoOoOoOo yummy! (I'm also hurrying cuz mine are still nice and warm and waiting to be gobbled up.) Over a year ago I found a recipe on Pinterest for a healthy cookie that only had bananas, oatmeal, and chocolate chips in them. Seriously? That's it? Yupperz. I made them once or twice then forgot about them… until last night. I decided that this morning would be the perfect time to try it out again. J is now 2, and I was certain he would love them.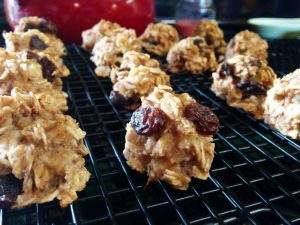 Here's what I did this morning.
1 ripe banana
2/3c. uncooked oatmeal
2T raisins
1t milled flax seeds
1/4t cinnamon (a couple good dashes)
Preheat the oven to 350°. Mix all of the ingredients with a fork. I used my tablespoon scoop to put the cookies on a parchment lined pan. Mine made 15 cookies. Bake for 13-15 minutes.
Boom! Done! And so super yummy. I wanted to devour them all while they were still warm, but alas, I had to share with J and another 2 year old I'm watching. Next time I think I will throw in some chopped walnuts. That sounds amazing, too.
Hi. I'm Tina.
Ever feel like your life isn't nearly as 'put together' as your Facebook friends? You don't have that perfectly clean living room or the time to make that amazing chocolate truffle cake? Let's pull back the curtain and talk about real life. Read more...