It's been some time since my last post. We have been busy. Once again I over-committed myself (more on that later). Now we are finishing up all of the house projects that we started over the last three years in order to put it on the market.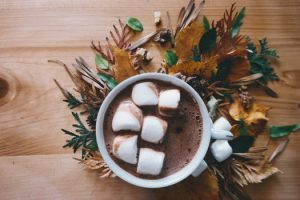 I decided to take a minute to sit with my cup of coffee, something I really should do more often. With everything going on in the house, I am not sure where exactly to start. That is my excuse to sit today. Sit and think.
Back to my coffee.
I have no creamer. I enjoy the splash of fun in my cup. Adding milk just isn't good enough.
In moments like these I whip out a packet of hot cocoa powder and dump away. Today I only put in a third of the package. That's all I needed to make my own sad attempt at a homemade mocha. It's a good fix until I figure out when I can get out to the store to buy the real stuff again.
Hi. I'm Tina.
Ever feel like your life isn't nearly as 'put together' as your Facebook friends? You don't have that perfectly clean living room or the time to make that amazing chocolate truffle cake? Let's pull back the curtain and talk about real life. Read more...