As Easter Sunday was approaching I signed up to make something for our breakfast at church. I picked muffins from the list… but really wasn't feeling like making muffins. So I decided to make cinnamon rolls instead. I'm a rebel. I'm pretty sure the reason they wanted muffins was so it would be easy for people to grab quickly while going through the line. Ok, fine. I would just need to bake the cinnamon rolls in liners. I made the dough and rolled up a long narrow roll to slice up mini cinnamon rolls. I put those in my cupcake liners in the muffin pan and let them rise in the fridge overnight. In the morning, I let the pan sit on the counter to warm up/rise a bit while the oven heated. They baked up BEAUTIFULLY! (sense the tiny bit of pride for my accomplishment) Problem: the cinnamon/butter/sugar mixture inside the rolls caused them to stick to the paper liners. We stopped at the store on the way to church for some store bought sadness. When we got home, I decided to experiment with the rolls I still had in the refrigerator. This time I used my silicone liners. BINGO! Next time I will just use those liners and simply transfer the rolls to paper liners before icing.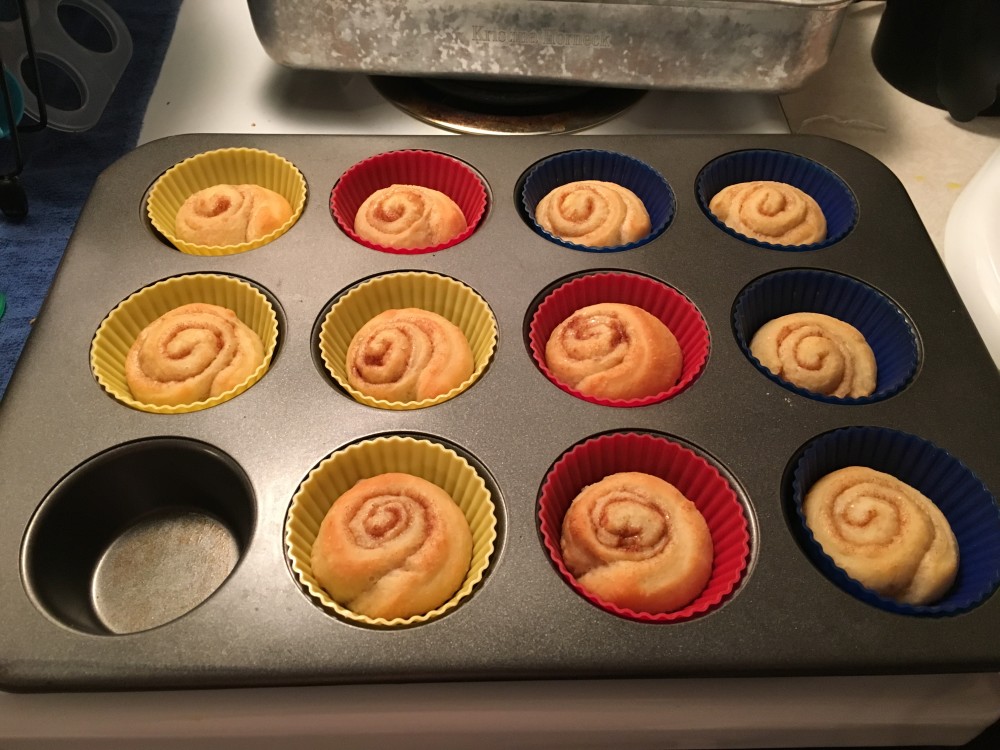 Plus, I cheated. I had a container of store bought vanilla frosting in the fridge. I heated that in the microwave (30 seconds at a time) and poured that over the cinnamon rolls. Go figure, Josh said he thinks he likes that better.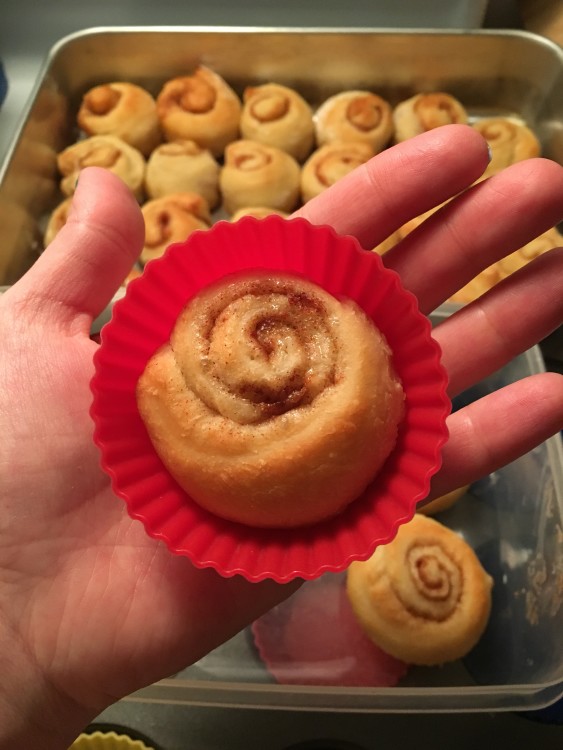 And those cinnamon rolls that were stuck to paper liners? I cut the bottoms off. The boys gobbled them right up. Miranda's Cinnamon Rolls Ingredients
1 cup milk
1 cup water
2T yeast
1/2 cup sugar
2t salt
4T butter, softened
1 egg
6 1/2 cups flour
Warm the water and milk together (warm, not hot) then add the yeast. Allow the yeast to activate for about 5 minutes. Stir in the sugar, salt, and 2 cups of flour. Add eggs and butter and mix. Stir in rest of flour. If dough is still sticky add just enough to make it not sticky anymore. Turn onto floured surface and kneed for about a minute. Put in greased bowl and let rise till doubled in size. Sprinkle flour on surface and roll dough out until about 18×12 inches. Spread thin layer of butter on dough and sprinkle cinnamon sugar mixture on it. Roll dough from long side making sure to keep it tight. Should look like a log when done rolling. Pinch side seams shut keeping ends unpinched. Cut into 18 pieces. (I use dental floss.) Topping For Caramel Rolls:
1-1/2 cups brown sugar
3/4 cup butter
3 Tbls water
Place brown sugar and butter in microwave safe bowl and heat until butter is just melted; stir well. Stir in water. Divide mixture among two 9×13 cake pans. Place the rolls in the pans. Let rise for about 45 minutes. Bake at 325 degrees for 20 minutes (mine always take about 25-30) (For caramel rolls) When you take out of oven, immediately turn each pan of rolls over onto a large plate or cookie sheet.
Hi. I'm Tina.
Ever feel like your life isn't nearly as 'put together' as your Facebook friends? You don't have that perfectly clean living room or the time to make that amazing chocolate truffle cake? Let's pull back the curtain and talk about real life. Read more...