In high school I took three years of Spanish. I don't remember most of it, but I do remember some of the projects. In the third year, we needed to choose a recipe, translate it into Spanish, then teach the class en Español. 🙂 We could pick whichever recipe we wanted. I choose chicken enchiladas. This is not only yummy, but also is so easy.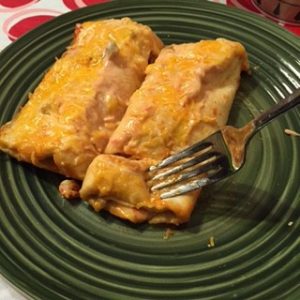 This recipe doesn't have exact measurements. I will give you an approximate.
Chicken Enchiladas
Ingredients
1 lb chicken breast
Salsa (we use medium, growing up we used mild – totally up to you)
Ranch dressing
1 cup Shredded cheese (cheddar, taco style – again totally up to you)
6 Tortilla shells
Preheat the oven to 350*.
Cut the chicken into bite size pieces. Cook it up any way you like. Boil the chicken in water or cook it in a frying pan with a tablespoon or two of olive oil.
Mix equal parts salsa and ranch. I start out with 1/2 cup each and add more if I run out. Spread a couple spoonfuls in the bottom of an 8×8 baking pan.
Lay out the tortillas and spoon some sauce mixture down the center. Put some pieces of chicken on top of the sauce and sprinkle cheese on that. Tuck in the ends and roll the tortillas up.
Place them in the pan, seam down. Spread remaining sauce over the enchiladas and sprinkle more cheese (cuz cheese is so tasty). Cover with foil and back for about 25 minutes.
Dig in!
Hi. I'm Tina.
Ever feel like your life isn't nearly as 'put together' as your Facebook friends? You don't have that perfectly clean living room or the time to make that amazing chocolate truffle cake? Let's pull back the curtain and talk about real life. Read more...