The cousins are visiting today. So what do I do with 5 kids age 5 and under? Cookies! But I also did want to take on a huge project.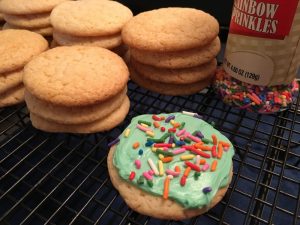 Ingredients
1 box of any flavor cake mix
2 eggs
1/3 cup oil
Mix the ingredients together. Roll into balls about 1-1.5″ in diameter. Slightly flatten out the balls and place them on your cookie sheet. Bake at 350* for about 10 minutes. Note: Want more color? Add some sprinkles or food coloring to the mix!
Hi. I'm Tina.
Ever feel like your life isn't nearly as 'put together' as your Facebook friends? You don't have that perfectly clean living room or the time to make that amazing chocolate truffle cake? Let's pull back the curtain and talk about real life. Read more...