Now that we have successfully cooked pie pumpkins in a crock pot, let's munch on a tasty reward for our not-so-hard work. Pumpkin seeds. Have you ever looked up pumpkin seed facts? These little buggers are awesome and great for you!
They are packed with protein, iron, zinc, amino acids, and fatty acids. Around the world they are being studied for their use in treating parasites, depression, kidney stones, prostate cancers, and arthritis. (Kinda makes me want to go buy a few more pumpkins just for the seeds.) In Europe, pumpkins are mainly grown for the seeds which are used to make a pumpkin seed oil for cooking. There are just so many interesting facts. I suggest you Google more about them (I know, I'm a nerd).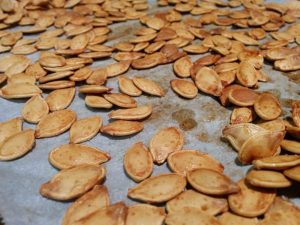 Let's eat! We will need:
Baked Pumpkin Seeds
Ingredients
2c. dried pumpkin seeds
2T butter or margarine
1t Worcestershire sauce
Salt
Instructions
After removing the seeds from the pumpkin, rinse off the goop (I used a strainer) and lay out on a cookie sheet lined with a paper towel to dry.
Once the seeds are completely dry, preheat the oven to 250°F. Mix 2 cups of seeds with 2 tablespoons of butter or margarine and a teaspoon of Worcestershire sauce. Lay them out on a cookie sheet in a single layer. Sprinkle with salt as desired. Bake the seeds for 2 hours.
That's it! Goodness that was simple, too! Enjoy your healthy snack and don't be afraid to test out other seasonings such as garlic salt or whatever you like.
Courses Snack
Hi. I'm Tina.
Ever feel like your life isn't nearly as 'put together' as your Facebook friends? You don't have that perfectly clean living room or the time to make that amazing chocolate truffle cake? Let's pull back the curtain and talk about real life. Read more...