Remember back when I made those yummy banana oatmeal cookies? Well now I have a version I whipped up for Ace, our 7 month old. These cookies will help use up the baby cereal that is just sitting in the cabinet. Yeah! I hate wasting. This is so simple. What you need:
Banana
Baby cereal (I used oatmeal)
That's it 🙂
Preheat the oven to 350. Mash up the banana with a fork or in the food processor. You will want it pretty runny for those new to "solids" and can leave small chunks for the professional eaters. Pour in small amounts of the cereal, like a tablespoon at a time, stirring after each addition until you get a consistency that you like. Mine was like a thick paste, and I might do it a little thinner next time. I think in the end I put in about a 1/4 – 1/3 cup of cereal in with 1/2 a banana.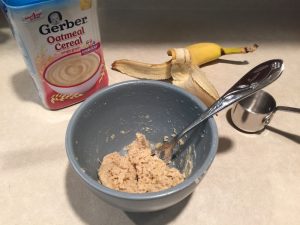 I used my tablespoon cookie scoop and plopped the cookies on a cookie sheet lined with parchment paper. Use the back of a spoon or your hands to flatten out the mounds of dough. You won't need to allow much space between the cookies since these don't spread out very much (I left way more that enough space).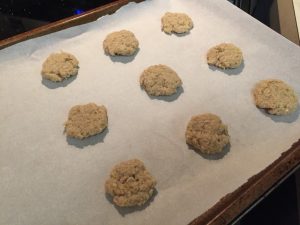 Bake for about 8 minutes. This time will vary, so keep an eye on them. They are ready when they start to get a bit of golden brown on top. Allow them to cool. Keep refrigerated up to 3 days. I hope your little peanut enjoys these cookies as much as Ace does. It's so nice to be able to give him something to nibble on while we make supper together.
Hi. I'm Tina.
Ever feel like your life isn't nearly as 'put together' as your Facebook friends? You don't have that perfectly clean living room or the time to make that amazing chocolate truffle cake? Let's pull back the curtain and talk about real life. Read more...